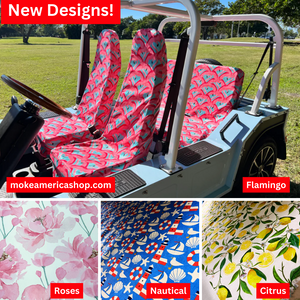 New Seat Covers
Moke America is thrilled to offer accessories for your Moke! These stylish Moke accessories are perfect to add some fun to your Moke from Moke America. Our seat covers come in many bright patterns. New for Spring 2023 are Flamingo, Roses, Nautical and Citrus. You can also order a matching tire cover. What a cute way to customize your Moke!
These seat covers are sold as a set.
Please specify whether you have the Classic configuration (4 bucket seats) or Bench configuration (2 buckets seats in the front and a bench in the back).
Available in multiple designs. These are weatherproof seat covers and can get wet. 
*Please note these are proprietary seat covers for Moke America. They will only fit electric Mokes made by Moke America. They are custom measured and hand-produced for our Mokes and only our Mokes. Please do not purchase if you have an older Moke or from a different country or seller.
*All our tops, car covers and seat covers are made by hand. There is a 3 week production time. They will be shipped out upon completion. Thank you. 
Care Instructions:
The fabric is machine washable. We recommend the Permanent Press setting, just keep it on the cooler side, not the cotton setting. The same for drying.
Please be mindful of the slide clips (for tightening the covers). Either tape them up, or put the whole thing in a garment bag.
---